What is an Audio Interface?
Unfortunately, computers weren't designed specifically for music production. They were created for business and are still used primarily for that today. And for that reason, they aren't fitted with inputs for guitar leads or microphone leads…..or most other types of leads.
They also have soundcards that are designed to play a bit of music but not to be used to process audio signals efficiently. So if you just grab a quick adapter and plug your guitar directly into your laptop. You are likely to get latency, as the soundcard isn't good enough to cope.
Step up the audio interface…
Audio interfaces are an essential part of any home studio. As a beginner, I believe it should be one of your first investments.
There are hundreds of options out there which range in price, sound quality and number of inputs. I have owned a few over the years but I have never spent a fortune on one.
What features do you need to look for?
As with all musical equipment you are greeted with a wide range of options when shopping around and these options will vary in price significantly. To try and decipher what the difference between them is can be tricky but here is a quick guide to some of the technical terms you may see in an audio interfaces specification listing:
Connection type
The type of connection that you use to connect your interface to your laptop or computer may vary so make sure you check this to see if it is compatible with your machine.
The oldest connection type that you are unlikely to encounter these days is 'firewire'. Firewire was an old connection type which first appeared in the 1980s. It is unlikely your newer computer or laptop has a firewire connection so try and avoid any audio interfaces with a firewire connection.
The most likely connection type you will see is USB. USB connections are present on pretty much all laptops and computers so you shouldn't have a problem connecting. Some newer interfaces have USB 3.0 technology which is an improved faster type of USB. Do bear in mind that this will only actually make a difference if your computer or laptop also has a USB 3.0 connection. If you have a USB 2.0 connection the audio interface will still connect and work but data will just transfer at 2.0 speeds. I have never owned a machine with USB 3.0 and have never had an issue with speed so I wouldn't spend time worrying about this. But don't go spending more money or feeling like your interface has to have USB 3.0 if your laptop doesn't even need that connection!
The final type of connection that has started to appear is 'Thunderbolt'. Thunderbolt connections appeared in 2011 and are mainly found on newer MacBooks. Very few audio interfaces come with direct thunderbolt connections and most are still USB so this shouldn't be a concern, but make sure you check the description carefully. You can always get a thunderbolt to USB converter or a USB to Thunderbolt converter depending on your computers connection types.
Direct monitoring
Direct monitoring means that you can directly monitor the sound from the audio interface itself, i.e it has a headphone and/ or speaker outputs on the device. This is different from having to use the headphone jack on your laptop or computer to hear the sounds you are recording.
Sample Rate
The sample rate refers to the number of audio samples that the interface can process in one second. You will see this value in the product description in kHz and the higher the number the more samples and therefore the better. You will see this number range from between about 45kHz up to 192kHz, so there is a big range.
Bit Depth
The higher the number of 'bits' captured in each sample, the more detail there will be.
More 'bit depth' means you can record a greater dynamic range. This is the difference between the quietest and loudest notes.
Typical bit depths are 16 or 24. 24 gives you higher quality and more dynamic range but 16 is adequate for most applications too.
The Audio Interface I'm Currently Using
As I always say, there may be some better options out there but I will only recommend what I have personally owned or tested.
My current audio interface and the one I would recommend to any beginner out there is the Focusrite Scarlett 2i4 (available at Amazon here). I love everything about this audio interface. First of all the look and feel of it is high quality despite the relatively low price. It has a stunning bright red metallic finish that looks awesome.
After years of struggling with connectivity and latency issues when recording. I have never had any issues connecting this interface to any DAW and I have never experienced any latency. The sound quality is great too.
I also love how lightweight and portable this thing is! In combination with my laptop, I now have a portable recording studio that will fit in a backpack. This has been great for taking to band practices to grab a quick live demo. Or to take somewhere to get different acoustics away from the studio.
If you are like me and are recording on your own or maybe with one other musician. The fact the interface only has 2 inputs shouldn't bother you too much. It connects to the PC easily via USB. Then you have midi in and out too along with outputs for your monitor speakers too along with a separate headphone output. All very handy features.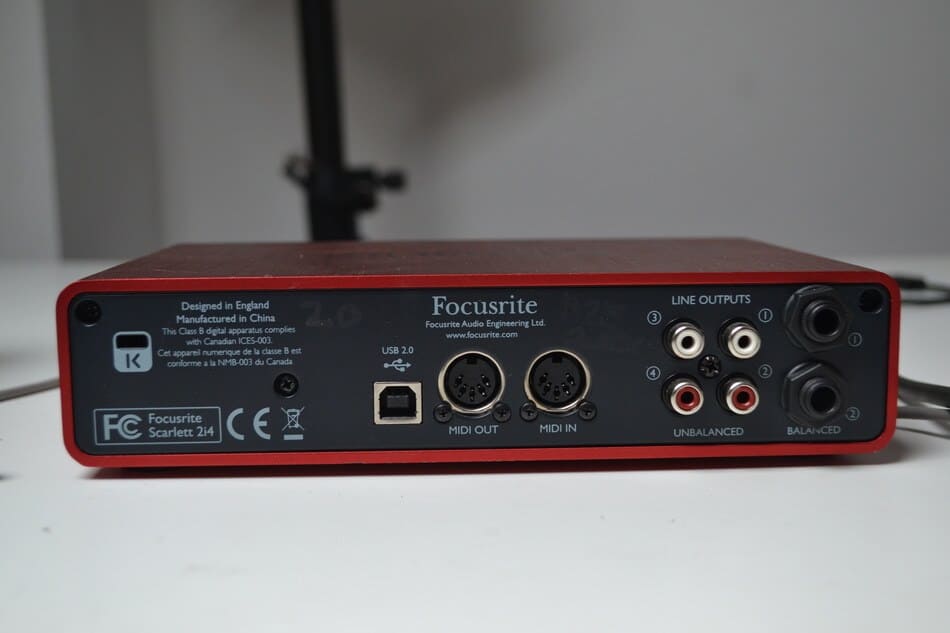 The Focusrite 2i2 is slightly cheaper but you don't get the MIDI or unbalanced line outputs. So consider that if you go for the cheaper option.
Likewise, you can go the other way if you want more inputs with the Focusrite 18i8 which will give you 4 inputs.
Other Options for Best Audio Interface 2019
Best Budget Audio Interface: Behringer U-Phoria UM2
[button link="https://www.amazon.com/BEHRINGER-Audio-Interface-1-Channel-UM2/dp/B00EK1OTZC/ref=as_li_ss_tl?keywords=audio+interface&qid=1555482781&s=gateway&sr=8-4&th=1&linkCode=sl1&tag=musicianshqus-20&linkId=d7a9a458da6de3f9e24ba4311c5c89d9&language=en_US" newwindow="yes"] Check the latest price[/button]
If you are looking to spend a little less money and just want to get started recording something then for the money the Behringer U-Phoria is not a bad start. Coming in at under $50 you can't really say it isn't value for money.
That said there will be a noticeable difference from the Focusrite machines in terms of quality due to a lower sampling rate. That said for a home recording studio on a budget the difference in quality is really not that obvious to the novice.
The interface comes with Midas preamps which sound really nice and are definitely a step up from previous Behringer equipment. Latency is never an issue and of course, small and therefore very portable but also feels durable for such a cheap piece of equipment.
The only thing I don't like about the cheapest model is the fact there are no 1/4″ jack outputs for monitor speakers. So you would either need to monitor through headphones or get an adapter for the AV audio cables.
So if you can afford the extra $50 I would get the slightly bigger, 2 channel, U-Phoria 202HD. This will give you those outputs and also a second input which is very handy and means you can record in stereo if you think that might be something you might do.
[button link="https://www.amazon.com/BEHRINGER-Audio-Interface-1-Channel-UM2/dp/B00QHURUBE/ref=as_li_ss_tl?keywords=audio+interface&qid=1555482781&s=gateway&sr=8-4&th=1&linkCode=sl1&tag=musicianshqus-20&linkId=cbd56e55bd3968a937f32a4f02f18cc1&language=en_US" newwindow="yes"] Check the latest price[/button]
Best features for the money: Tascam US 4×4
[button link="https://www.amazon.com/Tascam-US-4×4-Interface-Microphone-Compatibility/dp/B00MIXF1JW/ref=as_li_ss_tl?keywords=audio+interface&qid=1555576201&s=gateway&sr=8-33&linkCode=sl1&tag=musicianshqus-20&linkId=6bdefba9557ae6f613c0e8b5d8c9739e&language=en_US" newwindow="yes"] Check the latest price[/button]
If you need more inputs than just one or two but still want to keep it to a reasonable price then the Tascam US 4×4 is a good option. Come in under the $200 mark the Tascam gives you four input channels which can be either XLR or 1/4 inch jacks. It also has MIDI in and MIDI out if that is something you may find useful too.
The pre-amps on this machine sound amazing and are very low noise so you don't get any interference on your recordings. I also really like the angled design which just makes it look great and also improves the usability when it is on your desk making it easier to view and adjust settings quickly.
It also comes with both lite versions of DAW software Cakewalk and Ableton for you to be able to get recording tracks straight away!
Best for Thunderbolt connectivity: Resident Audio T4
[button link="https://www.amazon.com/Resident-Audio-T4-Thunderbolt-Interface/dp/B00OOXLQJS/ref=as_li_ss_tl?keywords=thunderbolt+audio+interface&qid=1555577315&s=gateway&sr=8-5&linkCode=sl1&tag=musicianshqus-20&linkId=df2dcb7bce8d25175d7936a79b0a30a4&language=en_US"] Check the latest price[/button]
If you have a newer Apple computer or laptop you may want to utilize the fast Thunderbolt connectivity you have. There are now a growing number of audio interfaces that have Thunderbolt connections rather than USB.
The Resident Audio T4 is a nice looking, lightweight interface with 4 input channels. The Thunderbolt connection ensure rapid data speeds so latency should never be an issue again!